Upcoming National Paper Art Exhibition
6/15/2022
Three of my works on paper will be on view opening this July in Bedford VA
at the Bower Center for the Arts. This is a juried exhibition with works selected by the artist Robert Stuart.
Dates: July 6th - August 20th, 2022



Image: "Between the Saplings", Gouache on paper, 2021
---
2022 Summertime Exhibitions
6/14/2022
I will be exhibiting "Transpire I" in the upcoming "10x10x10" Tieton Arts and Humanities exhibition opening August 6th - October 9th, 2022 in Tieton, WA.
This exhibit was juried by Bruce Guenther.

Two works on paper will be on view in "The Summer Show" at the Sharon Historical Society in Sharon, CT opening on July 16th - August 26th.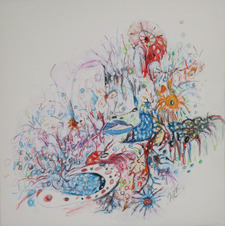 "New Bloom", Gouache and color pencil on paper, 8" x 8"

"Memory Mist I" an oil on paper is currently on view at the Silvermine Galleries Viewing Room in New Canaan, CT as part of the Guild Summer Salon from June 25th to August 18th.
---
Works on View in "Elements"
5/4/2022
Three works on paper are currently on view in the exhibition "Elements".
Juried by Scout Hutchinson, Whitney curator fellow for the BWAC
Dates: April 30th - June 5th, 2022



Image: "River Rise", Gouache on paper, 2021
---
Recepient Works on Paper Award
10/5/2021
I am pleased to share "Untitled Stretch" has received the Harlow and Lila Blum Works on Paper Award from juror Jim Shrosbree and the Buchanan Center for the Arts.
---
Upcoming Exhibition
8/16/2021
Looking forward to being apart of the "64 Arts" exhibit juried by Jim Shrosbree at the Buchanan Center for Arts in Monmouth, IL. Along with "Untitled Stretch" is the gouache painting "Fly Away" shown here. Opening Sept. 17th 2021-October 29th.
---
"PAINT 2021"
4/8/2021
I am looking forward to the international group exhibition PAINT 2021
Juried by curator Michelle Y. Loh
Silvermine Galleries, New Canaan, CT
Opens May 8th - June 30th.

Image;"Inside the River Flow", Gouache on paper, 2021
---
Drawing Challenge XVII, Jason McCoy Gallery
1/29/2021
I am pleased to share "I See You" which is part of the
Drawing Challenge XVII on-line exhbition at the
Jason McCoy Gallery, NYC.
Yes, there will be singing. About the dark times.
January 6 - February 2, 2021
---
Upcoming Exhibit Garrison Art Center
11/5/2020
12/5/20-1/3/21
"In the Forest" a work on paper will be on view
in the upcoming "smallWorks" exhibit at the Garrison Art Center, NY.

Juried by Paulien Lethen of the Holland Tunnel Art Newburgh/Gallery and Studios
---
---
Recent Exhibitions
9/5/2020
Many thanks for the inclusion of my work in the following recent exhibitions;

6/26/20-7/19/20
"Works on Paper" at the Long Beach Foundation of the Arts and
Sciences, in Loveladies, NJ.
Juried by Sarah Suzuki curator of Drawing and Prints, MOMA.

8/15/20-9/12/20
"Wide Open 11" on view from
August 15 to September 12th at the Brooklyn Artists Waterfront Coaltion in Red Hook, NY.
Juried by Paulina Pobacha, assistant curator from the Dept. Painting and Sculpture, MOMA.